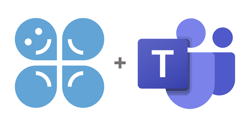 Cloverpop is the easiest way to keep track of decisions in Microsoft Teams, and the easiest way to understand how it works is add Cloverpop to Microsoft Teams and give it a try!
But what if you can't add apps to Teams on your own? Here are the next best two ways to give it a try.
Trying Cloverpop For Teams The Fun Way
Here is a fun and easy way to give Cloverpop a try if you can't add apps to your own Team:
1. Join the Cloverpop Champions Community on Teams
2. Once you join and are logged in to the Cloverpop Champions Community Team go to the Testing Channel. You will find it at the bottom of the list of channels on the left.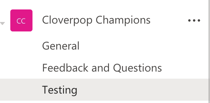 3. Next click on the Cloverpop tab at the top of the Page.

4. Try the Cloverpop features listed below!
Note before you start: The Cloverpop Community is a real community site, so please avoid sending random or test decisions to other channels or people. Thank you!
Start easy by sending a decision poll to the channel. Anyone in the channel can vote and see the poll results instantly.
Once the results are in, announce the decision to keep everyone in the loop and get buy-in fast.
Trying Cloverpop For Teams The Real Way
Trying Cloverpop on our community site can be fun, but the best way to try Cloverpop is in your own workspace with your own team. If you don't have rights to add apps to Teams, try sending this message to your IT manager to get things started:
I'd really like to try Cloverpop for Teams, a new app that helps teams like ours keep track of decisions in Teams The app is free for me to use with our team , and looks very easy to use.
We're happy to help if your app manager has any questions. Just go to the Feedback and Questions channel in the Cloverpop Champions Community and we'll get right back to you!