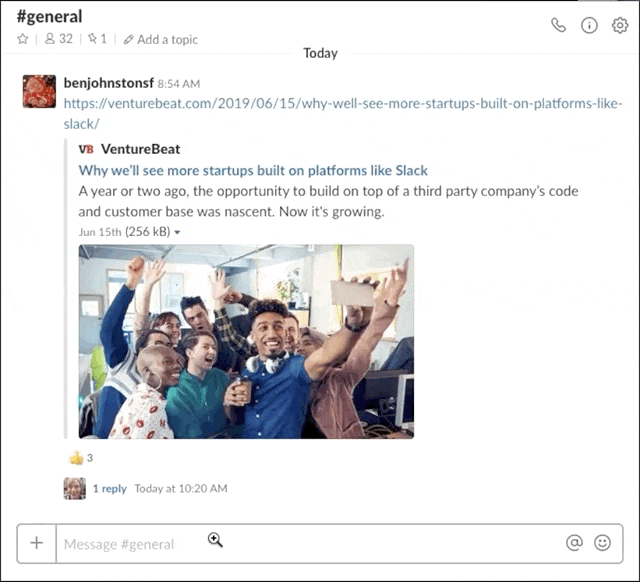 We're building our Slack-first app for making, tracking and communicating decisions, and it's the most fun I've ever had at work. Our design and development team is going 2X faster than our schedule, the app works great, and we expect to give early access within a week to the first batch of people who've signed up.
I wanted to share a why I'm so excited about the app, and why soon you will be, too!
Why Focus On Decisions?
Several standout reasons motivate our team to improve decision-making at work.
Distributed Teams - Teams are becoming distributed and remote teams are becoming more common. A new suite of software is facilitating this shift towards asynchronous collaboration. Most decisions can be made without meetings, removing bottlenecks and lost productivity.
Speed - Faster decision making means faster iterations and tighter feedback loops. The sooner you make a decision the sooner you take action and get closer to the messy reality on the other side of a decision. This gives you more time to course correct and improve your situation.
Better Decisions - Decisions can reliably be made better. The rigor applied should match the impact and reversibility of a decision. After a certain level of information and perspectives have been gathered there are diminishing returns. Cloverpop helps you reach that sweet spot as quickly as possible.
Transparency and Trust - Teams want to keep the right people informed on what decisions are being made, why they are being made while also giving them a chance to have their say. Cloverpop is a self documenting process where decisions are shared through the right channels/people and feedback is received. This keeps teams engaged and aligned.
Managing Complexity/Shared Consciousness - As orgs become flatter management is becoming less about making specific decisions and more about enabling decision flow to happen organically. Cloverpop gives structure to this network and allows teams to have more autonomy.
Why Slack?
The years we invested developing our web app gave us a clear understanding of the case to build a Slack app.
WorkOS - Slack is the layer of computing that connects team members to each other and their workflows. We want to be where communication is happening.
Onboarding - Only one member has to install Cloverpop and the entire team can start using it and derive value. They can do it all on Slack - no going to a new website and signing up. We will also be listed in their app directory which means we can be discovered organically. This is how Tettra got enough momentum to find product market fit.
Market - Slack has 10 million daily active users and is growing. The Slack user base is a ready-made pool of our target customers.
User Experience - Slacks API is mature enough to offer a rich Cloverpop experience without ever having to go to the web app for day to day use. We follow Slack conventions so usability will be high right out of the gate.
How Cloverpop for Slack Works
There are three key feature areas of our Slack app, most of which will be available in our early access product.
Better Faster Decisions
Polls - powerful polling feature lets you easily gather votes, insights and new choice ideas.
Decision Flows - create step through surveys that guide the participants of a decision through best practices to build out the quality of a decision e.g.

Framing a decision
Choice ideation
Choice risk/benefit analysis
Consider relevant goals
Identify important missing information

Decision Channels - time boxed channels for discussing decisions that archive once a decision is reached.
Delegation - quickly instantiate decisions that need to be made and pass them off to the right people.
Approvals - approval flows for quickly getting a decision approval on record.
Communicate and Align
Announce - keep the right people in the loop and announce your decision to multiple channels/people from one interface.
Gather Support - ask for support ratings and feedback when announcing decisions to build alignment around action, be more inclusive and catch oversights.
Track
Search - look up decisions from any channel and easily see what decision was made, who was involved and the reasons behind a decision.
List - easily view and manage decisions you are currently involved with.
What Does Reality Have To Say?
We're not the only ones who see the power and benefits of more modern decision processes.
Remote/Distributed Work - 70% of professionals now work remotely at least one day a week. Remote first companies are thriving e.g. Gitlab, Automattic, Basecamp, Zapier, Trello and establishing best practices for operating remotely. Thought leaders like Stripe are expanding their remote options. As more companies go remote and others are heavily distributed the need for making decisions across locations and timezones will demand new ways of collaborating. As it was said in Stripe's Remote Coffee Chat: "More decisions are being made asynchronously. The key is keeping synchronous decision making down to a minimum".
Transparency - 80% of workers want to know more about how decisions are made in their organization and 87% want their future company to be transparent according to Slack's Future of Work survey.
Thought Leaders - Leaders of the most visionary and fastest growing companies are sharing their decision making processes and philosophy and a pattern is converging. Here are some illustrative examples:
Decentralized decision making
Stewart Butterfield, Founder and CEO of Slack: "Managers looked to increase autonomy and bottom up decision making. Here at Slack the phrase 'pushing decision making to the edge of the organization' is one that we repeat over and over."
Patrick Collison, Co-Founder and CEO of Stripe: "Sometimes if I have to make the decisions it means something else in the organization is broken. Pushing others who are the domain experts to make more decisions."
Fast over perfect
Patrick Collison,:"Make more decisions with less confidence but in significantly less time. And just recognize that in most cases, you can course correct and treat fast decisions as a kind of asset and capability in their own right."
Jeff Bezos: "Most decisions should probably be made with somewhere around 70% of the information you wish you had. If you wait for 90%, in most cases, you're probably being slow. Plus, either way, you need to be good at quickly recognizing and correcting bad decisions."
Adaption of frameworks
Brian Armstrong of Coinbase shared their decision making framework
Goku Rajaman of Square gave a TED talk outlining the decision making framework they've adapted.
Claire Hughes Johnson of Stripe describes Stripe's framework for pipelining decisions
Get Ready!
We'll be giving the first group of people access to the app in the next week or so. Based on customer feedback and social media interest (the highest engagement rates we've seen so far!), we know you're interested and we appreciate your time. We can't wait to help solve decisions for Slack teams, and we look forward to joining Slack-first companies like Polly.ai, Donut, Guru and Troops as part of Slack's "WorkOS" ecosystem.